Towing and Wrecker Services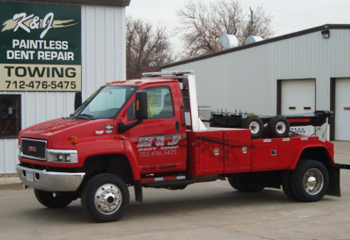 Our trucks are available 24 hours a day and are operated by trained and experienced staff.
We have been towing the local community for 34 years. Our trucks are equipped to tow light to medium duty vehicles.
Your vehicles will be transported on our flat bed truck or towed with the wrecker, both give your vehicle the greatest of care.
CONTACT K&J
Hours:
Mon.-Fri. 7:30a.m - 5p.m

24 hour wrecker & towing
After Hours:
Phone: 712-470-6455
Phone: 712-470-1312
FREE ESTIMATE