CONTACT K&J
Hours:
Mon.-Fri. 7:30a.m - 5p.m

24 hour wrecker & towing
After Hours:
Phone: 712-470-6455
Phone: 712-470-1312
FREE ESTIMATE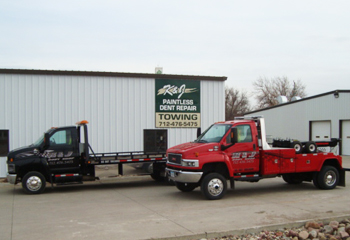 Tow Equipment
K & J Body Shop has two trucks to tow your vehicle. Whether it is from an accident or has a mechanical problem, we can get it where it needs to be serviced. Our trucks are available 24 hours a day and are operated by trained and experienced staff. We have been towing for the local community for 34 years.
Our trucks are eqipped to tow light to medium duty vehicles. Your vehicle will be transported on our flat bed truck or towed with the wrecker, both give your vehicle the greatest of care.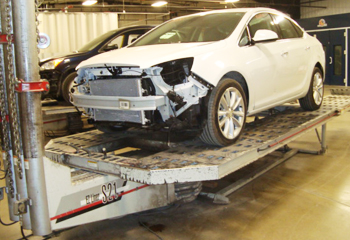 Frame Equipment
Our trained and certified frame technicians can do all your full frame or unibody frame straightening. Our technicians receive yearly training and use all the latest updates to properly structurally align your vehicle.
With 13 years of experience, our techs will have your vehicle frame back to pre-accident condition. We use the Chief Velocity measuring system, a state-of-the-art laser scanner that provides exact measurements for your vehicle. A detailed report will give you the confidence that your vehicle was straightened properly.